By Arwa Mahdawi in The Guardian
Hold the front page: in today's breaking news, it would appear that politicians are liars. We've got late-night host Jimmy Kimmel to thank for this shocking revelation. Kimmel opened up Tuesday's show by calling out Louisiana senator Bill Cassidy for lying to him about his plans to remove healthcare for millions of Americans.  
In May, "after my son had open heart surgery, which was something I spoke about on the air [Cassidy] was on my show and he wasn't very honest," Kimmel said. "He said he would only support a healthcare bill that made sure a child like mine would get the health coverage he needs, no matter how much money his parents make."  Continue reading
---
By Mark Boyle – The Guardian
When people learn of my decision to reject modern complex technology in favour of older, slower, forgotten ways, their first line of inquiry usually involves healthcare. Considering its importance to our lives, this is hardly surprising. Yet because of its emotive nature – which of us, after all, doesn't have friends or family needing glasses, hearing aids, stents or prescription drugs? – it seems difficult to have a calm, objective discussion on the subject.  Continue reading
---
Sales agent Shumitra Chaudhari in the shop she has recently opened selling clean energy and beauty products in Kailali District, Nepal (Photo: Ashden)
Globally, women are more affected by climate change. Sweden's deputy prime minister and the head of the Green Climate Fund say they must be brought into the discussion
Gender often remains the untold story behind climate change. After the television snapshots of devastation wrought by climate-induced disasters, our thoughts often remain with the local people forced to deal with the wreckage.
---
~New Staffing Report Highlights Continued Growth in Campus Sustainability Positions
Median salaries increased across virtually all position types 
(
September 5, 2017
) – The results of a 2017 survey of higher education sustainability staff indicate that campus sustainability positions continue to grow and evolve. The 
2017 Salaries & Status of Sustainability Staff in Higher Education report
 examines the nature of sustainability positions at colleges and universities in the United States, Canada and other countries. This report provides insights into salaries, funding, supervision, job satisfaction, challenges, and more.
---
by Jill Suttie, syndicated from Greater Good
Stephen Hinshaw explores what it meant to be raised by a father with psychosis—and how that experience has informed his work as a psychologist.
What is it like to grow up in a household with a parent displaying serious mental illness?
Renowned psychologist Stephen Hinshaw knows firsthand. His father suffered major bouts of psychosis that kept him periodically hospitalized during Hinshaw's childhood. Yet, the reasons for these absences were never explained to Hinshaw, until he turned 18 and his philosopher father started to divulge his lifetime of struggles (which included being (mis)diagnosed with schizophrenia for decades). Continue reading The Greater Good Online
---
On Tuesday, the Trump administration refused to renew the Deferred Action for Childhood Arrivals program (DACA), reinforcing the hatred, white supremacy, bigotry, violence and xenophobia that continues to cast a shadow in this country and around the world.
This decision could tear mothers from their children, our neighbors from their homes, our classmates from their education, and some of our nation's most promising and hard working Americans from the futures they deserve. The lives of 800,000 undocumented young people are at stake if we do not act now.
---
---
When we launched the Campaign for Southern Equality (CSE) in 2011, my living room became our "office", no one was getting paid, and almost every foundation we approached turned us down, either because they didn't fund LGBTQ work or because they thought our primary strategy at the time – winning marriage equality in the South by 2016 – was laughable.
---
Bonnie is able to bring you an "Everyday Estate Sale" with the quality, diversity, and fair pricing you have come to expect from a Bonnie Rose Estate Sale without having to wait for an Extravaganza event! You will want to check the Market Place regularly as fresh items will now be added to the Market Place every week. We will also be sending out emails to announce as quantities of fresh items become available!     Go to:  
Bonnie Rose Estate Sales Marketplace
---
The recent "Unite the Right" events in Charlottesville saw the mobilization of violent individuals by organizations working to exploit hate and fear in an effort to advance white supremacy.  The emboldened white nationalist movement in the United States requires redoubled efforts to address racism in America in all its forms, from structural racism and inequitable public policies, to outright terror.
---
They were known as the "book women." They would saddle up, usually at dawn, to pick their way along snowy hillsides and through muddy creeks with a simple goal: to deliver reading material to Kentucky's isolated mountain communities.
The Pack Horse Library initiative was part of President Franklin Roosevelt's Works Progress Administration (WPA), created to help lift America out of the Great Depression, during which, by 1933, unemployment had risen to 40 percent in Appalachia. Roving horseback libraries weren't entirely new to Kentucky, but this initiative was an opportunity to boost both employment and literacy at the same time.
---
By  Jamie Peck in The Guardian
Picture this: you're a woman. You've got a great idea for a startup, but you're having trouble getting people to work with you on it. You have a sneaking suspicion it's because of your gender … although then again, it could all be in your head. What do you do?
Invent a male co-founder, of course.
A pair of artists and entrepreneurs named Penelope Gazin and Kate Dwyer elicited grim laughter from women all over this week when they revealed they'd done just that in their quest to get their startup off the ground.  Continue reading
---
Women's health, rural hospitals focus of Carolina Public Press, HuffPost collaboration in WNC
LENOIR-RHYNE UNIVERSITY'S CENTER FOR GRADUATE STUDIES OF ASHEVILLE AND VIA A LIVE-STREAM
SEPTEMBER 25 • 8:30 AM–10:30 AM
---
 The City of Asheville, along with partners Pisgah Legal Services and Buncombe County, will co-host the 2017 Affordable Housing Summit on September 29 at UNC Asheville's Sherrill Center.
---
The Southeast Wise Women Herbal Conference began thirteen years ago as a gathering of 200 women who came together to immerse themselves in the study of herbal medicine and the Wise Woman tradition of Earth-based healing. This year, organizers expect over 1200 women, of all ages and backgrounds, to attend the weekend event—held from October 13-15 at Lake Eden in Black Mountain—making it one of the most popular and vibrant herbal events in the country.
---
Know About the Black Bear  
Offered by Ed Raiola
Feeding bears (intentionally or unintentionally) trains them to approach homes and people for more food. Bears will defend themselves when they get too close to people so don't risk your safety and theirs!  Bear Safety Tips
---
This Saturday, August 26, we will mark another Women's Equality Day with a march and rally in Durham, NC. First commemorated in 1971, Women's Equality Day marks the day – August 26, 1920 – that the 19thAmendment to the U.S. Constitution was ratified, barring voting restrictions based on gender. As I wrote last year, though, the struggle for gender equality for all women did not begin or end with this suffragist movement. And as we look at the status of American women 97 years on from this historic moment, it's imperative we examine what full gender equality and equity would look like in our world, and take careful note where we still fall short. Continue reading
---
Womansong is celebrating its 30th anniversary on Saturday, October 7th at 7:30 pm and Sunday, October 8th at 3 pm, with performances at the Diana Wortham Theater in downtown Asheville. 
---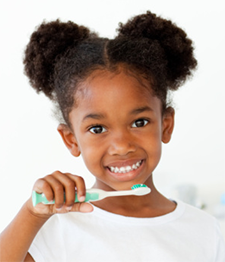 Offered by Kani Louise Nicolls  DDS,  PA
Take notes, tired parents! If you've all but emptied your bag of tricks to get your little one to brush and floss regularly, there are still a few more cards you can put up your sleeve to help keep smiles cavity-free.
Give these sneaky (yet proven) dental hacks a try to preserve your child's oral health:
1. Have teeth coated with dental sealant.
Typically used to prevent tooth decay in permanent teeth, it is now being used more and more by pediatric dentists to protect precious baby teeth as well. In as little as a few minutes, a thin, durable barrier can be applied to the pitted surfaces of your child's teeth to keep harmful bacteria from doing lasting damage. Since sealant is invisible to the unpracticed eye, your child won't even notice it's there.
2. Do another round of brushing when your child is asleep.
It can take time for your child to adopt good dental habits, but it doesn't take long for plaque to do a number on teeth and gums. On days you think your child's teeth could be cleaner, it can be worthwhile to simply wait until after bedtime for a second, more thorough sweep of the teeth. Waiting until your child is sleeping deeply can minimize the chance of waking him or her while you brush.
3. Keep Xylitol wipes handy for quick late-night cleanings.
Tooth wipes can be a major time-saver late at night when brushing may prove too difficult or inconvenient. If your little one requires nighttime feedings and/or medications, wipe down the teeth afterwards to reduce exposure to harmful sugar or acid overnight. Most varieties use Xylitol, a safe, natural sweetener that inhibits the growth of plaque, but look for ones that are also free of paraben and formaldehyde. (Please note: Xylitol wipes only serve as a dental aid, and should not be regarded as a substitute for daily brushing and flossing.)
4. Use disclosing tablets to detect plaque buildup.
An easy way to monitor your child's oral health in between dentist visits is through disclosing tablets — colored chewables that use harmless dye to reveal areas where plaque is forming. Having your child use this regularly can be an effective way to ensure teeth are being thoroughly cleaned, so that you can make any necessary hygiene adjustments before cavities form. Check with your dentist for a recommended brand, and find these at your local drugstore or online.
5. Add fluoride to your child's diet.
Fluoride, a naturally occurring mineral, is a proven cavity-fighter that can prevent and even reverse early tooth decay. The ADA recommends daily intake of moderate levels of fluoride, and it can easily be incorporated in a variety of ways: through fluoride-enhanced water, vitamins, toothpaste and more. Check with your child's dentist first to ensure the proper dosage for your child.
6. Encourage a drink of water after a sweet treat.
A little H2O right after dessert can do more than just quench your child's thirst. Not only does it help minimize the contact of sugar with his or her teeth, but also it can dislodge tough food particles and help restore the mouth's PH balance. Cleansing the palate by drinking water (and brushing, if possible) can also diminish cravings for more sweets.
7. Dish up a plate of food before going to a party.
If you know your child is headed for a celebration, have him or her eat just beforehand. Offering a plate of nutritious food can help fill your child's stomach and make a cavity-causing cake and dessert binge less likely. Setting a rule on edible favors can also help limit sweets without cutting down on the fun of the event. Permit your child to pick out a few favorites and save (or share) the rest.
Nothing Beats Brushing and Flossing
Taking a creative approach can make dental care less stressful for both you and your child, but regular brushing, flossing and dentist visits are still the most critical paths to preserving oral health. For additional questions or ideas on protecting your child's teeth, schedule a consultation with your child's dentist.
---
Sources:
How clean are your kids Teeth? (n.d.). Retrieved May 24, 2015 from http://www.childalert.co.uk/article.php?articles_id=497
Jaret, P. (2010, October 29). Healthy Teeth for Life: 10 Tips for Families. Retrieved May 24, 2015 from http://www.webmd.com/oral-health/features/healthy-teeth-tips
Oral Health Challenge: 5 Tricks for Dealing with Halloween Treats. (2012, June 20). Retrieved May 24, 3015 from http://www.webmd.com/oral-health/features/5-tricks-for-dealing-with-halloween-treats?page=2
---
Really.  It is high time we acknowledge the tremendous things Donald J. Trump has done as our president. I can think of eight things right off the bat:
1. Spared us from both constant Republican stonewalling and nonstop vitriol from the GOP's Perpetual Senate Investigative Committee to Impeach Hillary.
---
Asheville, NC Current Weather
74°
clear sky
humidity: 77%
wind: 3mph N
H 91 • L 57
Weather from OpenWeatherMap