By Arwa Mahdawi in The Guardian
Hold the front page: in today's breaking news, it would appear that politicians are liars. We've got late-night host Jimmy Kimmel to thank for this shocking revelation. Kimmel opened up Tuesday's show by calling out Louisiana senator Bill Cassidy for lying to him about his plans to remove healthcare for millions of Americans.  
In May, "after my son had open heart surgery, which was something I spoke about on the air [Cassidy] was on my show and he wasn't very honest," Kimmel said. "He said he would only support a healthcare bill that made sure a child like mine would get the health coverage he needs, no matter how much money his parents make."  Continue reading
---
by Jill Suttie, syndicated from Greater Good
Stephen Hinshaw explores what it meant to be raised by a father with psychosis—and how that experience has informed his work as a psychologist.
What is it like to grow up in a household with a parent displaying serious mental illness?
Renowned psychologist Stephen Hinshaw knows firsthand. His father suffered major bouts of psychosis that kept him periodically hospitalized during Hinshaw's childhood. Yet, the reasons for these absences were never explained to Hinshaw, until he turned 18 and his philosopher father started to divulge his lifetime of struggles (which included being (mis)diagnosed with schizophrenia for decades). Continue reading The Greater Good Online
---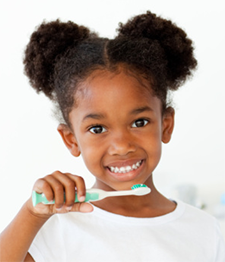 Offered by Kani Louise Nicolls  DDS,  PA
Take notes, tired parents! If you've all but emptied your bag of tricks to get your little one to brush and floss regularly, there are still a few more cards you can put up your sleeve to help keep smiles cavity-free.
Give these sneaky (yet proven) dental hacks a try to preserve your child's oral health:
1. Have teeth coated with dental sealant.
Typically used to prevent tooth decay in permanent teeth, it is now being used more and more by pediatric dentists to protect precious baby teeth as well. In as little as a few minutes, a thin, durable barrier can be applied to the pitted surfaces of your child's teeth to keep harmful bacteria from doing lasting damage. Since sealant is invisible to the unpracticed eye, your child won't even notice it's there.
2. Do another round of brushing when your child is asleep.
It can take time for your child to adopt good dental habits, but it doesn't take long for plaque to do a number on teeth and gums. On days you think your child's teeth could be cleaner, it can be worthwhile to simply wait until after bedtime for a second, more thorough sweep of the teeth. Waiting until your child is sleeping deeply can minimize the chance of waking him or her while you brush.
3. Keep Xylitol wipes handy for quick late-night cleanings.
Tooth wipes can be a major time-saver late at night when brushing may prove too difficult or inconvenient. If your little one requires nighttime feedings and/or medications, wipe down the teeth afterwards to reduce exposure to harmful sugar or acid overnight. Most varieties use Xylitol, a safe, natural sweetener that inhibits the growth of plaque, but look for ones that are also free of paraben and formaldehyde. (Please note: Xylitol wipes only serve as a dental aid, and should not be regarded as a substitute for daily brushing and flossing.)
4. Use disclosing tablets to detect plaque buildup.
An easy way to monitor your child's oral health in between dentist visits is through disclosing tablets — colored chewables that use harmless dye to reveal areas where plaque is forming. Having your child use this regularly can be an effective way to ensure teeth are being thoroughly cleaned, so that you can make any necessary hygiene adjustments before cavities form. Check with your dentist for a recommended brand, and find these at your local drugstore or online.
5. Add fluoride to your child's diet.
Fluoride, a naturally occurring mineral, is a proven cavity-fighter that can prevent and even reverse early tooth decay. The ADA recommends daily intake of moderate levels of fluoride, and it can easily be incorporated in a variety of ways: through fluoride-enhanced water, vitamins, toothpaste and more. Check with your child's dentist first to ensure the proper dosage for your child.
6. Encourage a drink of water after a sweet treat.
A little H2O right after dessert can do more than just quench your child's thirst. Not only does it help minimize the contact of sugar with his or her teeth, but also it can dislodge tough food particles and help restore the mouth's PH balance. Cleansing the palate by drinking water (and brushing, if possible) can also diminish cravings for more sweets.
7. Dish up a plate of food before going to a party.
If you know your child is headed for a celebration, have him or her eat just beforehand. Offering a plate of nutritious food can help fill your child's stomach and make a cavity-causing cake and dessert binge less likely. Setting a rule on edible favors can also help limit sweets without cutting down on the fun of the event. Permit your child to pick out a few favorites and save (or share) the rest.
Nothing Beats Brushing and Flossing
Taking a creative approach can make dental care less stressful for both you and your child, but regular brushing, flossing and dentist visits are still the most critical paths to preserving oral health. For additional questions or ideas on protecting your child's teeth, schedule a consultation with your child's dentist.
---
Sources:
How clean are your kids Teeth? (n.d.). Retrieved May 24, 2015 from http://www.childalert.co.uk/article.php?articles_id=497
Jaret, P. (2010, October 29). Healthy Teeth for Life: 10 Tips for Families. Retrieved May 24, 2015 from http://www.webmd.com/oral-health/features/healthy-teeth-tips
Oral Health Challenge: 5 Tricks for Dealing with Halloween Treats. (2012, June 20). Retrieved May 24, 3015 from http://www.webmd.com/oral-health/features/5-tricks-for-dealing-with-halloween-treats?page=2
---
YWCA Launches New Evidence-Based Model for Diabetes Program
 ASHEVILLE, NC – Beginning in August 2017 the YWCA Diabetes Wellness & Prevention Program (DWP) is taking on a new model. Through our new evidence-based curriculum, DWP aims to help program participants lower A1C blood sugar levels, lose weight, increase energy, and build a community of support.
---
by Billy Mills, Christina Torres, Ashley Hicks, et al
We explore a topic our listeners have called out as a passionate force and a connector across all kinds of boundaries in American culture: running. Not just as exercise, or as a merely physical pursuit, but running as a source of bonding between parents and children and friends, as an interplay between competition and contemplation; as a way to understand body image and survival and healing.  
Continue reading
Listen to this podcast on:
---
BIG NEWS TODAY—world is moving towards NUCLEAR-FREE on weapons!  This is the treaty the United Nations voted to adopt http://www.undocs.org/en/a/conf.229/2017/L.3/Rev.1
"The Convention on the Prohibition of Nuclear Weapons"  and here is the vote: 
https://s3.amazonaws.com/unoda-web/wp-content/uploads/2017/07/A.Conf_.229.2017.L.3.Rev_.1.pdf
There will be a long process as nations decide (or not) to ratify this new agreement—don't hold your breath on our fine nation adopting this—but let's sing and dance and PARTY for a strong move in the world in the right direction!
---
By Jae Berman – Washington Post
We all think our day starts when we wake up. But what if the day really starts the evening before? Why does it matter? When you create an ideal nighttime routine, it is far more likely that your first step in the morning will lead to a successful day. Continue reading
---
by Gretchen Reynolds, NY Times offered by Ed Raiola
Physical activity, even including walking, can substantially reduce a woman's risk of developing breast cancer, encouraging new science shows, in part, it seems, by changing how her body deals with estrogen.
Evidence has been accumulating for some time that exercise reduces the risk of many types of cancer, including breast malignancies. But the physiological mechanisms involved have not been well characterized, nor have scientists known what kinds and amounts of exercise provide the surest protection.  Continue reading
women health, women breast cancer, exercise
---
Don't let a lack of time or space get in the way of gardening your way to a healthy lifestyle.  Plant a container of nutritious vegetables and herbs.  Include a few planters on the front porch, back patio or right outside the kitchen door.
---
Feminism | Posted by Gabby Catalano 

Our society very clearly communicates that pretty is everything. Pretty is skipping breakfast. Pretty is counting calories. Pretty is losing weight (and not gaining it back). Pretty is being told by friends that "you look so skinny."
---
By Mark Boyle – The Guardian
When people learn of my decision to reject modern complex technology in favour of older, slower, forgotten ways, their first line of inquiry usually involves healthcare. Considering its importance to our lives, this is hardly surprising. Yet because of its emotive nature – which of us, after all, doesn't have friends or family needing glasses, hearing aids, stents or prescription drugs? – it seems difficult to have a calm, objective discussion on the subject.  Continue reading
---
The Southeast Wise Women Herbal Conference began thirteen years ago as a gathering of 200 women who came together to immerse themselves in the study of herbal medicine and the Wise Woman tradition of Earth-based healing. This year, organizers expect over 1200 women, of all ages and backgrounds, to attend the weekend event—held from October 13-15 at Lake Eden in Black Mountain—making it one of the most popular and vibrant herbal events in the country.
---
LGBTQ Health Initiative Launches in Asheville to Promote Innovation
Asheville, NC (August 8, 2017) – The Campaign for Southern Equality (CSE) is providing a grant of $10,000 to Western NC Community Health Services (WNCCHS) to support its leadership and innovation in LGBTQ health, including its Transgender Health Program and HIV/AIDS services. 
---
Welcome to Girls on the Run! – a life-changing, non-profit program for girls in the 3rd through 8th grade. Our mission is to inspire girls to be joyful, healthy and confident using a fun, experience-based curriculum which creatively integrates running.
---
Abstract by Linda J. Blumberg,  Matthew Buettgens, John Holahan, Bowen Garrett, Robin Wang
The Better Care Reconciliation Act (BCRA) was introduced in the Senate on June 22, 2017, and is now under debate. The bill would eliminate much of the Affordable Care Act. In this report, we present state-by-state estimates of the impact of the BCRA on health care coverage and costs. Nationwide, we find that there would be 24.7 million more uninsured people under the BCRA by 2022. Federal funding for Medicaid, premium tax credits, and cost sharing reductions would be $140.4 billion lower under the BCRA in 2022, while state Medicaid spending would increase by $565 million. Continue reading
---
by Elayne Clift
Women have always been caregivers. Whether looking after small children, elders, other family members or friends in small communities, tending to others in urban settings with limited support systems, or acting as professional caregivers in institutional settings, we have been the primary providers of physical care and emotional support in a variety of settings and circumstances throughout the ages.  Continue reading
---
Emily Graham Interviewed by Kristin MacLeod-Johnson
Try this on for size. You are 40 weeks pregnant. "Ready to pop," to use a favorite American colloquialism. A documentary filmmaker is going to film the climactic finish of this journey, the labor, and whatever may transpire,which is truly unknown, because birth is treading in the waters of the great mystery. Hopefully there will be sweat, tears, dilation, grunting, nakedness, rawness, and ultimately, the opening and receiving of new life. Let's also do it unassisted, and that does not mean just without drugs. It means without medical intervention. This is what 35 year old Emily Graham agreed to do back in February 2015 in collaboration with filmmaker Scott Kirschenbaum.
---
CLICK HERE for Top 3 Ways to Help Planned Parenthood Right Now
In October 2016, Planned Parenthood turned 100 years strong. Planned Parenthood was founded on the revolutionary idea that women should have the information and care they need to live strong, healthy lives and fulfill their dreams — no ceilings, no limits. Learn more about how 100 years of care, education, and activism have changed everything.
---
Access to affordable health care is a topic on everyone's minds. For women, the stakes are high as the national conversation on the United States healthcare system and its future continues to wind its way through Congress. 
---
In 1961 the Supreme Court, under Chief Justice Earl Warren, unanimously upheld the constitutionality of a jury selection system that discriminated against women on the grounds that "women are at the center of home and family life." The observation reflected dominant social values at the time, but the Court was unable then to see how such values thwarted the promise of equality for women implicit in the Constitution.
---
Asheville, NC Current Weather
74°
clear sky
humidity: 77%
wind: 3mph N
H 91 • L 57
Weather from OpenWeatherMap