Spirit of MLK Celebration Honors DIVERSITY LEADERS at MAHEC
On Wednesday, January 22, more than 200 employees and community members gathered at MAHEC to honor the life and legacy of Dr. Martin Luther King, Jr. at the Spirit of MLK awards celebration we have hosted annually since 2001.
This year's event featured keynote speaker Reverend Canon Nontombi Naomi Tutu, daughter of Archbishop Desmond and Nomalizo Leah Tutu, who reminded us that Dr. King's work is not limited to civil rights in the United States but is part of a larger human rights movement that strives for justice for people everywhere. This movement requires us to stand up for the humanity of others wherever we find ourselves, in the smallest of daily acts and larger social justice efforts.
This year's Emerging Leader Award was presented to Ana Cabello-De la Garza, MSW, MPH, for her health equity and reproductive justice work across MAHEC. Ana is the lead for our statewide medication-assisted treatment training project and is also the chair of the consumer working group of the National Preconception Health and Healthcare Initiative. The Spirit of MLK was awarded to Cherie Jackson, strategic business partner in our Department of Talent Management, for her tireless commitment to promoting social justice here at MAHEC and in the community at large.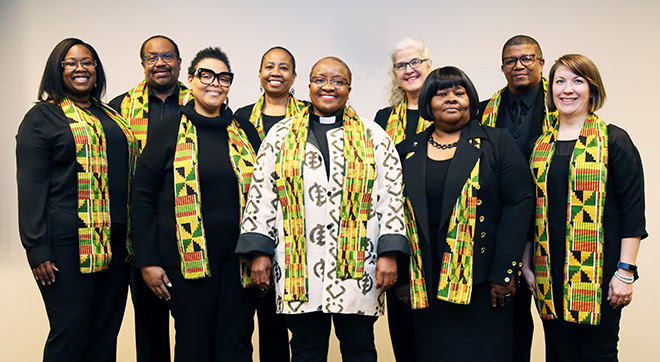 Participants were treated to an inspirational MAHEC Community Choir organized by JoAnne Edgerton, who is a Lifetime Achievement Award recipient. The Mt. Zion Missionary Baptist Church musicians and community members accompanied the choir with MAHEC singers Tiffany Woods, RN; Bill Gist, MD; Heather Miracle, WHNP-BC;  Evan Richardson, CNM; Denise Duckett, BSW; and her niece Jacquelyn Powell, LPN, from Digestive Health Partners.
Tags: asheville womens magazine, mahec diversity award, wnc diversity award, wnc healthcare, wnc womens magazine
SheVille Team
We are a one-of-a-kind magazine that provides local, regional, national and international information about women's lives and education, performing and visual arts and writing, the environment, green living and sustainability and regional Western North Carolina business, people and events. "Villages preserve culture: dress, food and dance are a few examples. As villages grow in population and turn into towns, local cafes make way for large American chains. Handmade leather sandals are discarded for a pair of Western sneakers. Due to its small size, a village fosters a tight-knit sense of community. Justpeace.org explains the meaning of the African proverb, "It takes a village," by stating that a sense of community is critical to maintaining a healthy society. Village members hold a wealth of information regarding their heritage: they know about the ancient traditions, methods of production and the resources of the land. When villages become dispersed or exterminated in times of war, this anthropological knowledge disappears. Large cities are not as conducive to growing and producing foods such as fruits and vegetables. Villages, on the other hand, usually have ample amounts of land and other resources necessary for growing conditions." The Importance of Villages by Catherine Capozzi Our Mission SheVille.org provides readers with information important to women's lives and well-being. We focus primarily on the areas of education & health, business & finance, the arts & the environment. We are particularly interested in local & regional resources, organizations & events.