This exciting new art exhibition by all women artists is more feminism and less misogyny. 
by our Syndicating Partner, ATOD Magazine
For as long as time has existed, women have been portrayed as little more than ornamental figures when it came to their depiction in art. Especially when looking at the history of male photographers capturing our likeness. Somehow through the perceived lens of the male narrative, women aren't always shown in their true form as strong, powerful, empowered, ethereal and extraordinary beings. And they are.
That's where the W.O.W. (Women on Women) Exhibition at Galerie XII's, Santa Monica's Bergamot Station's newest gallery steps in and redefines an outdated notion and an oversimplified version of the prowess of the female essence. Exhibiting this pioneering show of five female artists, Patty Carroll, Maia Flore, Mona Kuhn, Ziqian Liu and Anja Niemi is Valerie-Anne Giscard d'Estaing. The daughter of former French President Valery Giscard d'Estaing, her desire to embolden women to challenge the status quo is evident in this powerful display of a woman's fierceness, and it is daring and refreshing. The pieces are feminine and courageous, honest and infinitely and categorically authentic. They also are perfectly timed with Women's International Day and Women's History Month.
The exhibition also showcases artists that have inspired so many female artist throughout time, giving a voice to the many artists vying for visibility in a male-dominated field. W.O.W. is an opportunity to see women as they should be seen. Rather than a sensual undertaking exposing women as mere objects, each artist takes the time to showcase the many layers and beautiful complexities that make women so incredibly unique. 
The diverse array of chosen works triumphantly explore different ways of expressing the strength and beauty of the female spirit.
The models, which are often the artists themselves, are represented anonymously in either a poetic, atypical, colorful or sensual way that does not shy away from embracing womanhood in all its rich, complex and multifaceted totality.
Female artists have long played a quintessential role in art, challenging the status quo and transforming the art world forever with their prolific contributions including, but certainly not limited to, visionaries like Frida Kahlo, Georgia O'Keeffe and Elaine Sturtevant. Taking inspiration, W.O.W. celebrates women and devotes itself to honoring their artistic accomplishments."
With a deep curiosity for how this much-needed exhibition came to be, we wanted to speak with Giscard d'Estaing directly, as well as exhibiting artist Patty Carroll.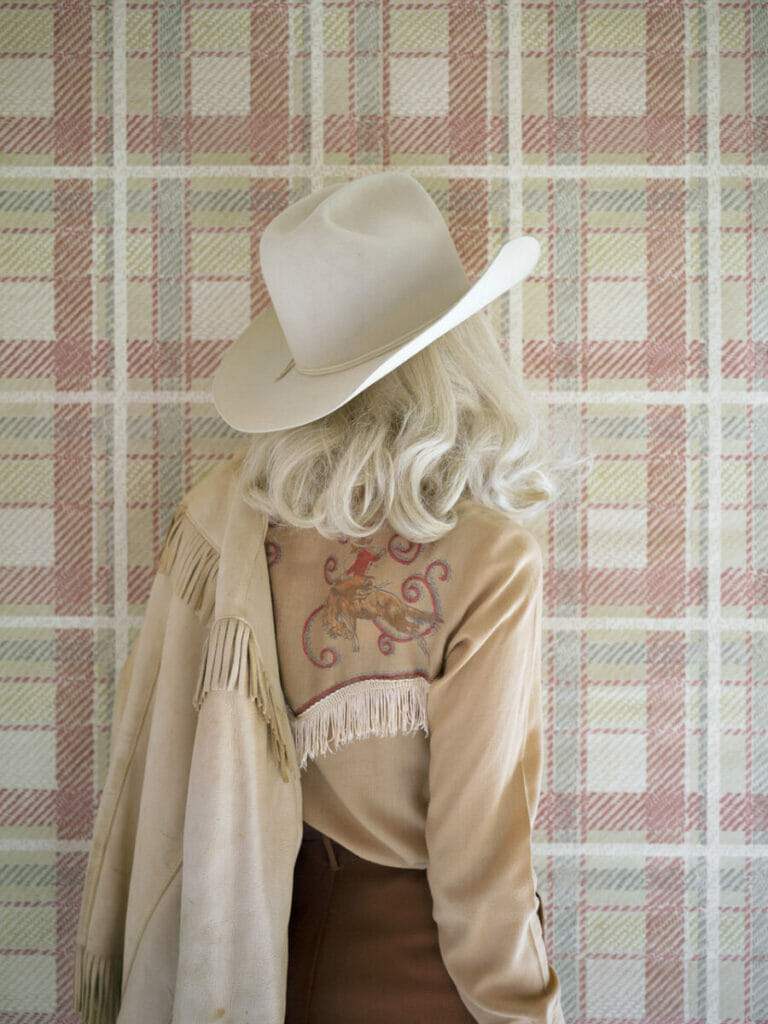 As the fight for gender equality continues, how can art help change the narrative and draw attention to the importance of women empowering women?
Valerie-Anne Giscard d'Estaing: The Arts have historically been dominated by men with a few brilliant exceptions. In the past, women were deemed unable to create competitive original artworks. This started to change in the 20th century, most particularly in the medium of photography. Some outstanding women were taken seriously and developed significant careers, such as Margaret Bourke-White, Gerda Taro, Dorothea Lange, Sabine Weiss, Martine Frank or Susan Meiselas. They brought a woman's perspective and sensitivity to subject matters which were typically rendered male: the wars, social issues, business.
A more recent generation consisting of players such as Cindy Sherman and Nan Goldin has focused on what it is to be a woman. Their work is not documentary, but creative. Through images that they stage, often taking themselves as the main model, they portray the world in which they live, bringing awareness and recognition of the "woman's condition" to the foreground.
The current generation draws on what these pioneers have built and have grown stronger over time. Women no longer have to excuse themselves for being creative or hide their talent. They can express their feelings and their opinions through their images without reprieve.
They fight for equality, freedom, and a safer planet for us all.
Patty Carroll: By being true to ourselves, and not backing down or out.
What does this exhibition mean to you?
Valerie-Anne Giscard d'Estaing: As the curator of the exhibition, I aimed to show artists from different ages, origins, areas and visions, who had all chosen to express themselves by photographing the female body. For ages, nudes have been mostly painted and photographed by men, quite often with a more or less erotic subtext.
These women have gone beyond that staple and expressed the beauty of the body they inhabit, its link to nature, and its ability to express feelings or situations.
Patty Carroll: I am very pleased to be part of this exhibition celebrating the visions of women. I hope my humorous narratives will be a source of joy and fodder for thought about what and how women perceive themselves in our complicated world.
How can we (media and women) continue to champion more exhibitions and one another?
Valerie-Anne Giscard d'Estaing: Even if there has been a vast improvement in recent years, there is still a lot of work to be done before women artists are able to reach the recognition of their male counterparts. If you look at the Art Market, the difference in prices is still staggering. Solo exhibitions in the main museums are still mostly masculine. Curators of the main museums are still predominantly and disproportionately men.
This story, the Women Making Art About Women, was originally published in ATOD Magazine and has been republished here with permission.